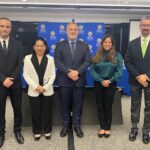 On October 5, 2023, Professor Celina Realuyo briefed on the global and regional threats of terrorism at the "Building Resilience to Violence: An Introduction to Preventing Violent Extremism" workshop at the OAS/CICTE, the Inter-American Committee Against Terrorism. She provided an overview of terrorist groups in the Middle East and Africa and threats from FARC and ELN dissidents in Colombia and Hezbollah in the Americas. CICTE is the only regional entity whose purpose is to prevent and combat terrorism in the Americas. CICTE promotes cooperation and dialogue among member states to counter terrorism, in accordance with the principles of the OAS Charter, the Inter-American Convention against Terrorism and with full respect for the sovereignty of countries, the rule of law and international law.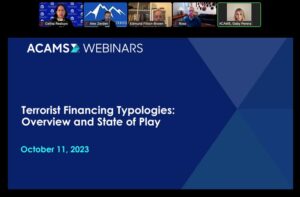 A week later, on October 11, she participated in an ACAMS (Association of Certified Anti-Money Laundering Specialists) webinar titled "Terrorist Financing Typologies: Overview and State of Play" with co-panelists Amb. Edmund Walter Fitton-Brown, Coordinator, UN Analytical Support and Sanctions Monitoring Team and Alex Zerden, Chief Executive Officer, Capitol Peak Strategies. She presented on the case of Lebanese Hezbollah's use of drug trafficking, trade-based money laundering, and cryptocurrencies in the Americas.
This annual ACAMS event seeks to update the community of practice on trends in terrorist financing around the world and measures to safeguard the international financial system. With over 350 participants, this session was very timely given the October 7 Hamas attacks on Israel, as it addressed the illicit financial flows from Iran, Hamas and Hezbollah. ACAMS is the largest international membership organization for anti-financial crime professionals that support them through thought leadership and continuing professional education.