On May 22, the North American Research Center (CISAN, at the National Autonomous University, UNAM) and the Perry Center organized an international seminar in Mexico City on the topic of the role of women as actors in the armed forces in North America. One goal of the event was to establish an interactive space for female members of the militaries of the United States, Canada, and Mexico, where they could give testimony on the role and responsibilities of women and raise the visibility of related issues. The seminar convened several panels of military women, yielding a wealth of experience and diversity among participants and audience members. The seminar was organized and moderated by Perry Center Professor Patricia Escamilla-Hamm and CISAN Director Silvia Nunez Garcia.
The distinguished attendees included US Ambassador to Mexico Anthony Wayne, Canadian Ambassador to Mexico Sara Hradecky, SEDENA Brigadier General Gonzalo Corona (Director of Military Justice representing Minister of National Defense General Salvador Cienfuegos), Rear Admiral Victor Manuel García (representing Secretary of the Navy Admiral Vidal Francisco Soberon Sanz), Director for North America at the Mexican Ministry of Foreign Relations Ana Luis Fajer Flores, and UNAM Law School Director Leoba Rivas Castañeda.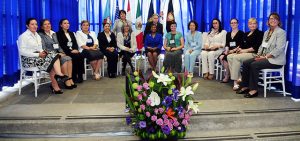 The seminar began with panelists US Major General Gwendolyn Bingham, Royal Canadian Navy Vice Admiral Jennifer Bennett, SEDENA Brigadier General Irene Reyes Espinosa, and SEMAR Admiral Irma de los Santos Ayala. Other panelists included Navy Commander Amy Alcorn of USNORTHCOM, Mexican Army Lieutenant Colonel Rosa Elena Torres Davila, Canadian Air Force Major Nancy Perron, SEMAR Lieutenant Sandra Luz Navarrete Ramos, SEMAR Commander María Patricia Camacho Reyes, US Air Force Lieutenant Colonel Sarah Russ, SEDENA Major Judith Irina Gonzalez Herrera, and Canadian Army Major Krista Dunlop.
All panelists recognized the importance of continuing to explore the particular challenges faced by women in the military and to counteract stereotypes, myths, and persistent inequality against women in the military. While Mexico, Canada, and the United States have made many gains in gender equality and representation of women in their military services, the seminar concluded that more research, work, and dialogue must continue on this important topic.