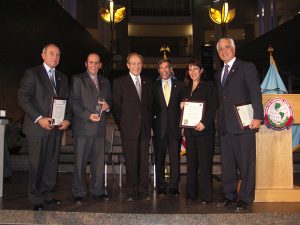 Rear Admiral (ret.) Juan Rodriguez Kelley, director of Peru's "Strategic Leadership for Defense and Crisis Management Course" (known by its Spanish acronym, CEDEYAC), which won CHDS' first William J. Perry Award for Educational Excellence, has been named as Director General for Education at the Ministry of Defense in Lima.
Rodriguez Kelley served more than 30 years in the Peruvian Navy, retiring on January 1, 2001. That same year, he attended CHDS's Strategy and Defense Policy (SDP) course in Washington, DC, and later became part of the team which developed CEDEYAC, which adapted Center academic content and instructional methodology to the Peruvian reality. As CEDEYAC director, Rodriguez Kelley won praise for his leadership, serving as helmsman for 16 courses taught over a period of nine years.
Upon learning of Rodriguez Kelley's selection as head of education at the Peruvian Defense Ministry, CHDS Director Dr. Richard D. Downie, sent him the following message:
"Your selection is a clear recognition of your professional abilities, your personal qualities and above all, your commitment to the search for educational excellence in security and defense issues. We are absolutely certain that the Defense Ministry and armed forces will palpably benefit from your experience, knowledge and abilities. Juan, all your friends at CHDS send you a huge abrazo and our commitment to help support you in this new endeavor.
It was in 2001 that Peru's Center for Defense and Security Studies (Centro de Estudios en Defensa y Seguridad/CEEDS) was first established, composed of CHDS graduates. Rodriguez Kelley, who was CEEDS' first president, was reelected to that post in 2010. Members of CEEDS are responsible for CEDEYAC's administrative tasks and academic offerings, efforts supported by the Peruvian Navy and other individuals and institutions. In 2009, CEEDS added a new course on Asia-Pacific issues.
Rodriguez Kelley brings to his new post broad professional and academic experience, including having served as deputy chief of the Peruvian Naval School and director of the Superior Naval War School. He also attended courses at two other US Department of Defense Regional Centers: the Asia-Pacific Center for Security Studies (APCSS) and the George C. Marshall European Center for Security Studies.
In 2007, Rodriguez Kelley accepted on behalf of CEEDS and CEDEYAC the Perry Award from the former defense secretary himself, during a celebration of CHDS' 10-year anniversary.