On March 1, 2017, members of the Perry Center's Costa Rican alumni network and representatives of the National Coalition against Human Trafficking (CONATT) held a roundtable about security policy and human trafficking in San José, Costa Rica.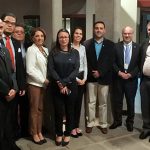 The event was moderated by alumna Marjorie Rojas and featured presentations from fellow graduates Carlos Murillo and Sandra Chávez Esquivel and Rónald Villalobos of the CONATT. The diversity and expertise of the event's 12 participants—including numerous alumni from across the Costa Rican government—enabled a robust discussion that offered different perspectives on policy challenges as well as opportunities for collaboration between academics, legislators and decision-makers to address this multidimensional threat.
Afterward, roundtable participants were able to network and discuss ways to begin building inter-organizational networks to combat human trafficking and related activities in Costa Rica.