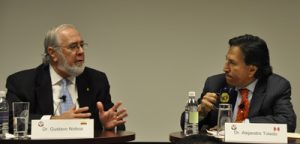 On December 8, former Ecuadorian and Peruvian Presidents Gustavo Noboa and Alejandro Toledo were featured speakers at the first-ever CHDS international "Executive Defense Management Seminar" (EDMS), held December 7-11, in Washington, DC.
The seminar, which includes senior government officials, ministers and vice ministers of defense, foreign affairs and the interior from countries in Central and South America, addresses strategic planning and the formulation of policies to confront the critical challenges and assists to enhance the management skills of these serving officials.
The week-long event includes lectures and panel discussions by distinguished scholars and both current and former high-level government officials from the region.
In addition to Toledo and Noboa, three congressional defense committee chairs, and five former ministers of defense are serving as guest speakers, panelists, and mentors.