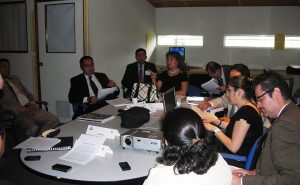 During the week of 26-30 April 2010, the CHDS team of Mr. Kevin Newmeyer, Dr. David Spencer, and Dr. Evan Ellis traveled to San Salvador to conduct the exercise event "NationLab El Salvador 2010," in conjunction with the CHDS partner institution in El Salvador, el Colegio de Altos Estudios Estrategicos (CAEE).
NationLab El Salvador 2010 was the first implementation of a new game design combining facets of strategy development, complex interaction between multiple entities simulating detailed national processes and structures, and the use of both expert adjudication and computer simulation tools to advance the scenario, based on actions taken by player teams. The new game design was a collaborative product, based on multiple interactions with the director of the CAEE, General Arturo Vaquerano, and core members of his team, including Colonel Ben Magaña and Lieutenant Colonel Oswaldo Vides.
In the exercise itself, students of the CAEE had the opportunity to role play interacting elements of the Salvadoran government and society over a period of ten years, in the formulation and adaptation of coordinated multi-sectoral strategies to combat challenges of gangs and drug trafficking at the heart of the national security and defense environment of the nation. Entities represented in the exercise included various presidential administrations, various ministries and quasi-governmental entities, the domestic and international press, the Church, international NGOs, and various pressure groups.
Each day of exercise play took the students through a new national planning cycle, from the formulation and declaration of national policy by the Salvadoran president, to strategy formulation and interagency coordination by ministry-level entities, to interaction with the broader Salvadoran society and international community. At the end of each day, the detailed actions of the Salvadoran government represented by the exercise participants were subject to the adjudication by CHDS and Salvadoran subject matter experts and fed into an advanced system dynamics-based simulation of the Salvadoran sociopolitical and economic environment to advance game play. During the subsequent day, results of the previous day's events were briefed to the students, providing them feedback with respect to their actions, and encouraging them to think systemically regarding the complex interaction between factors driving outcomes in the policy environment in which they were operating.
The exercise was very positively received by the CAEE, and by participants, who provided a great deal of constructive feedback on ways to continue to improve the event in the future.
Now back from San Salvador, the CHDS team is preparing to conduct its next exercise event, in coordination with the Interamerican Defense College (IADC), 24-28 May 2010. The event with IADC will be focused on the Interamerican system and international, interagency responses to a regional disaster event.