In a luncheon hosted by the Perry Center, faculty and staff said farewell to Professor Guillermo Pacheco. Mr. Pacheco joined the Perry Center faculty in 2006 as an Assistant Professor for eight years before becoming a Professor of Practice for the last two years. Prior to working at the Perry Center, Professor Pacheco led a distinguished career as a leading civilian defense expert in Guatemala. Having served as a political advisor to the Guatemalan Ministry of Defense, advisor to the Secretary General of the Presidency of Guatemala, and Minister Counselor for the Guatemalan Embassy to Colombia, Professor Pacheco lent his expertise to modernizing and professionalizing the Guatemalan defense and security sectors.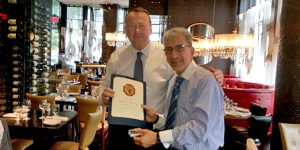 During his time at the Perry Center, Professor Pacheco directed numerous courses and academic programs. Notably, he provided invaluable assistance in the preparation and development of the inaugural Defense Policy and Complex Threat (DPCT) course and has produced substantive, original research on political-civil-military relations. Perry Center Director Mark Wilkins praised Professor Pacheco as "an acknowledged expert on hemispheric defense and security matters, particularly on security and defense white books," and noted his "relentless passion" over many years of "dedicated, notable, and loyal service."
In recognition of his contributions to the center over the past ten years on the faculty, Director Wilkins honored Professor Pacheco as a Distinguished Member Emeritus of the Perry Center and, on behalf of Defense Security Cooperation Agency Director Vice Admiral Joseph Rixey, presented him with the DSCA World of Excellence Award. The Perry Center is honored to have had the pleasure of working with Professor Pacheco for the past ten years, and we wish him the best in his future endeavors.