Perry Professor Boris Saavedra was inducted into the Gallery of Honor of the Inter-American Defense College (IADC) on Friday, June 3.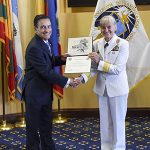 Dr. Saavedra, a former combat pilot and retired Brigade General of the Venezuelan Air Force, has been associated with the College for 20 years. From 1996-1998, he was the Chief of Academics. Since then, as a long-time member of the faculty at the Perry Center, he has frequently lectured and contributed to academic programs at the College.
The ceremony of incorporation of new members to the Gallery of Honor takes place annually. It recognizes officers who have served or studied at the College and who have distinguished themselves in their careers through their achievements and positions in security and defense matters in the Western hemisphere.
From everyone at the Perry Center, congratulations to Dr. Boris Saavedra!