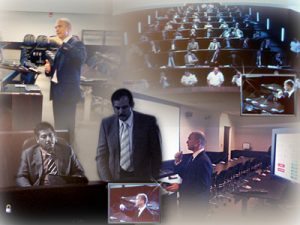 On August 18th, the Center for Hemispheric Defense Studies (CHDS) NationLab team conducted a three-hour videoconference with the Centro de Estudios Superiores Navales (CESNAV) of the Mexican Navy (SEMAR), as part of NationLab Mexico 2010. The video conference was the first in a series of events for this year's NationLab effort, with the purpose of presenting the NationLab process to participants and providing an introduction to, and training for, one of the key techniques used: system dynamics and causal diagramming.
The VTC was attended by approximately 70 people, including current CESNAV students from the Mexican Navy, as well as representatives from the Mexican Army (SEDENA), and various agencies of the Mexican government.
NationLab Mexico 2010 is a collaborative effort between the Center and CESNAV to provide hands on training in the formulation of strategy and policy on specific defense and security issues important to Mexico, as well as on interagency and international coordination.
The current NationLab is the fourth conducted by CHDS since its responsibilities were given to the Center by US Southern Command in 2008. This year's event builds on previous NationLab work, with a series of activities, including a 5-day scenario-based interactive wargame, as well as a preliminary workshop, and a series of videoconferences to prepare participants and coordinate work products associated with the event.