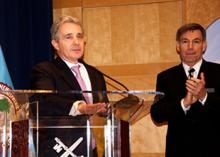 Friday morning, the 1st of April, the Center for Hemispheric Defense Studies was honored to have the former President of Colombia, Dr. Alvaro Uribe Velez, as a guest presenter at the National Defense University's Abraham Lincoln Hall on the topic of "Leadership and Democratic Security." President Uribe was also the CHDS Perry Award recipient in 2008.
Dr. Uribe treated the audience of about 300 people to a discussion on the history of Colombian security issues and the decisions that were made during his administration to defeat the drug trafficking, guerrilla, and paramilitary groups that plagued the Colombian people.
Out of a number of important points he highlighted three difficulties that had to be overcome to restore a secure atmosphere for society and the economy to grow:
Holding criminals responsible for their actions rather than blaming social inequality;
Overcoming the physical and political fears of confronting these problems, and
Formulating a coherent and long-term strategy within this atmosphere of physical and political danger.
The solution, he said, was to break the perception that an increasing focus on security leads to a decrease in democracy. His "Democratic Security" strategy relied on convincing the Colombian people that security was, in fact, a necessary prerequisite for the effective exercise of democratic values.
Dr. Uribe said that "while human rights should not be used to shield criminals, security concerns must not negate those same rights." His speech also emphasized the importance of winning short-term victories to sustain the nation's determination to achieve long-term goals. He spoke about his personal method for dealing with difficult situations: having a broadly-focused, long-term strategy while micro-managing its implementation to ensure success.
Upon leaving office, President Uribe told his successor, the current President of Colombia Juan Manuel Santos, "I have gone eight years without sleeping and now it is your turn."