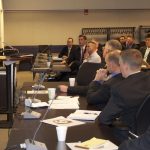 Twenty-seven members of the US Marine Corps War College (MCWAR) arrived at CHDS to enhance their understanding about security issues in Colombia and Brazil. Their day began with a brief presentation by Dr. Luis Bitencourt that aimed to help participants to contextualize Brazil and Colombia security policy alternatives. This was followed by a Colombian panel discussion focusing on Colombia's past efforts and present security trends with General (ret.) Carlos Ospina and Dr. David Spencer, of the Office of the Secretary of Defense.
Their visit coincided with that by former Colombia President Alvaro Uribe, allowing them to join CHDS staff and students, as well as members of the broader security community, in the NDU auditorium to hear President Uribe speak on the topic of Defending Democracy in Colombia.
Later in the afternoon, the group attended another panel discussion, this one on Brazil's security challenges and defense posture. CHDS Professors Luis Bitencourt and Salvador Raza and NDU/CISA Professor Thomaz Costa made up the panel.