On November 13, Professor Pat Paterson participated in the final session in a 2014 VTC lecture series with the University of Guadalajara in Mexico. Professor Paterson spoke on the topic of international human rights to an audience comprised of University of Guadalajara faculty, students, and alumni, and viewers who tuned in virtually from other locations.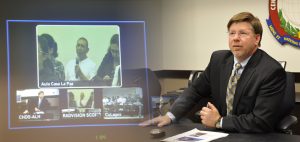 The lecture involved a brief history of international humanitarian law and its principal elements such as the principles of war, war crimes, crimes against humanity, and what constitutes an illicit target during wartime. He also covered the international institutions that enforce compliance with international humanitarian law: the International Criminal Court, the United Nations, and special tribunals such as that for Yugoslavia and Rwanda.
Professor Paterson then examined the current situation in Latin America. In many countries – including Mexico – the military has been deployed to fill domestic law enforcement operations in place of the police. This is a necessary assignment for the region's military in light of the extent of organized crime problems in Central America and Mexico. At the same time, it is a risky mission. Military forces are normally trained to use maximum force when confronting the enemy and those that are not trained in police tactics: escalation of force, recognizing hostile intent versus hostile action, check points, road blocks—risk losing critical cooperation and legitimacy from the civilian population. Professor Paterson cited recent examples from Peru, Colombia, Bolivia, and Iraq to demonstrate the strategic consequences of such errors.