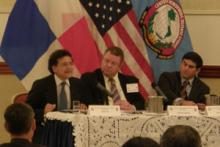 On July 29-31, the Center for Hemispheric Defense Studies cosponsored, together with the Panamanian Ministry of Government and Justice, a conference on "Critical Security and Defense Challenges in Mesoamerica: Regional, Governmental and Private Perspectives."
The event offered several critical insights into the problems being faced by Central America, Panama and Mexico. It focused on the importance of inter-agency and regional coordination in security and defense; regional cooperation for better inter-operability among the Central American countries, particularly with US forces in the region, the critical need for institution building, and the balance between short-term needs (political necessities) and long-term goals (strategic vision).
"This conference has done two important things to help confront the challenges we all face in this Hemisphere," said Dr. Richard D. Downie, Center director. "Those are: to effectively pose the nature of the threats that we face and, more importantly, to point to the opportunities for strengtheing ourselves to face them."
Although not the focus of the conference, there continue to be broad concerns in the region over the relationship between the civilian authorities and the military. Unlike the 1990s, with its emphasis on reducing military budgets, today the region's armed forces are under pressure to increase their missions and resources, which has led to a debate about whether these trends strictly reflect security needs, or are part of a military effort to increase their role and presence in the political sphere.
The keynote speaker, Latin American historian Dr. Frederick M. Nunn, urged the group to consider the political context in which decisions were made, pointing out that priority attention should be given to the issue of the political control of the armed forces and the challenges that stem from it.